Renewable Energy
Wind turbines
To power – small / Medium & large Installations
If you are considering investing in wind turbines but are unsure which system would be the best for your needs,
Fusion can advise you on which system would suit your requirements best:-
Whether you plan to use your newly installed Wind Turbine for water heating purposes/lighting or simply selling your electricity back to the Electricity suppliers,
Fusion is able to help clients understand which is the best system to use for their application.
We can work out annual price projections per kw/hr , survey land and identify key positions, also organise geological land surveys/carry out test digs for base foundation requirements.
After a brief chat, we can then advise source/price/supply and install a wide variety of systems, we are also able to establish the best way to utilize your wind turbine energy surpluses should this be the case.
Here are some of the most up to date wind turbines on the market at the moment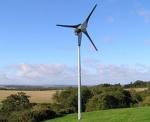 Conventional Wind Turbine 6kw H=15m

Vertical Axis Wind Turbine 15kw – Uni directional positioning H=18m
Fusion are also able to Construct roads to gain access to your new Wind Farm, carry out muck shifting and construct earth work support/ Trench and duct cables on various types of terrain and deal with specialist environmental & Engineering specifications & conditions that may be imposed on proposed sites around scotland.
We are able to organise all HV / LV connections + construct weatherproof equipment enclosures and liaise with all energy networks keeping you up-dated with the best deals for our clients.
Currently there are some refurbished 250kw  & 500kw (half a megawatt) units available for private & Individual buyers with 10 years gaurantee offered!
Typical calculations for 500kw units are: 500 x £0,23p p/kw hr = £115.00 p/hr x 24hrs cycle continuous wind (1 x day) @ 18 – 21m/s= £2760.00 p/day  x year average wind approx 240 days of wind out of 365 days in most windy (Turbulant Land) regions in Scotland.
Possible 1st year potential return p/500kw unit = £662,400.00 +
There is also a maintenance contract put in place for the 10 years gaurantee which can be extended.
The figures speak for themselves and the bottom line is that the more windier the location the more monies generated which makes financing a wind turbine Unit/Farm a sound safe and green investment.
Substantial grants are also offered by the rural development  Agency Scotland.
Contact Fusion now for a Renewable Energy Wind Turbine (Free location survey & costing) and make a great saving by using a single Contractor that can get the job done fast!
Enquiry's Tel: 01236 767 665